T-Style Table Tents | Acrylic Sign Holders for Restaurants & Retail Stores
---
T-style Table Tent - Top & Side Loading Plastic Frames for Menus or Ads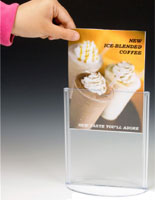 What makes these side and top loading T-style table tents so effective at advertising to prospective customers? The acrylic displays have a very simplistic design that keeps all of the focus on the bright graphics, informative messages or any other attractive printed content. Countertop fixtures of this ilk are completely transparent, so the advertisement is always in full view. Managers can setup the top loading frames on counters, tables and cash wraps. The sturdy base ensures that the signage remains upright on any flat surface. Busy eateries, boutiques, schools and other businesses are able to install the plastic frames in any prominent area in the establishment to garner interest. These wholesale T-style table tents with slide-in designs, commonly referred to as upright sign holders, feature clear paneling on both sides for double-sided advertising possibilities. Acrylic displays versatile enough for use in all sorts of industries and settings. Top and side loading constructions make it very simple for employees to quickly replace old promotional campaigns with new ones. These T-style table tents are affordable acrylic displays perfect for eateries that are constantly changing the specials. The countertop fixtures come in many different sizes to best accommodate the desired graphic. Upright sign holders come in flat and curved shapes to attract the potential clientele. These tents come in styles that support portrait and landscape oriented prints. Countertop fixtures will protect all of the important content from potential damage. Although lightweight, commercial tents prevent dust, dirt and other light spills from destroying the important promotional content. Acrylic displays provide a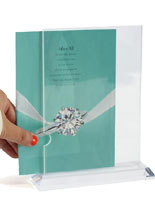 crystal clear view of the contents while securing the material from damage.
What types of businesses use the upright sign holders in promotional strategies?
These t-style table tents are most commonly found at eateries. The versatile designs lend themselves nicely to both upscale and casual dining atmospheres. Restaurants, bars, coffee houses, banquet halls and even catering companies can setup the acrylic displays on the tabletops to showcase the menu. We highly recommend purchasing these menu card holders in bulk. Depending how many tables your establishment has, it's always a good idea to have plenty on hand in case of loss or breakage.
Retail shops often need to get the word about an upcoming sale, new product line or an in store credit card. Merchants often elect to use the top or side loading designs to present attractive offers to shoppers. The acrylic displays are very effective when used on retail furniture, such as cash wraps or shelving.
Any business or public space with a message for patrons can take advantage of these low cost signage frames. As mentioned earlier, the acrylic displays take moments to assemble and function well on almost any flat surface. Banks, schools, museums, libraries, post offices and countless other businesses can promote important information to customers with the countertop fixtures.
These T-style table supplies make it very easy for users to slide the image into the polished edges. Acrylic displays feature top and side loading constructions. Users need to separate the two panels and insert the image into the desired position. Countertop fixtures sometimes have small cut -outs for an even more convenient way to change out old images. A few of the supplies require merchants to sandwich photos in between two panels and slide the panels into the side framing. Both style of acrylic displays protect the contents and take moments to setup. Increase the exposure of the advertising campaign by placing the supplies in prominent areas throughout the establishment.