Table Tents & Sign Holders for Stores and Restaurants
---
Sign Holders For Tabletop Displays in Restaurants and Stores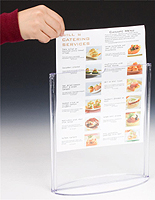 Why do business owners choose table tents for advertising? These sign holders are the ideal picture frames for the food service industry, such as restaurants, bars and fast food places. The sign displays benefit many sides for the exhibiting of menus or images. Table tents are a great way to get your message out to anyone coming into your stores or restaurants. You can easily create your own advertisements using these table top sign holders. Built to be inexpensive while boasting wholesale prices, these table top frames can be bought in bulk, further increasing your savings! Look on each product page for our quantity price breaks on all styles. Picture-Frames-Warehouse.com stocks sign holders as well as photo frames and poster frames for any and every purpose. These table tents are available in metal, acrylic, plastic & glass.
What kinds of designs do these sign displays have?
Table tents here include various designs and materials for all business settings and home decor. These durable frames are made of metal, acrylic, plastic, and etc. Not only they allow you to display impressive promotions and ads, but also help you stay in budget.
Counter mats are non-slip desktop mats that are ideally used for registers and cashiers. You can change your promotional printings easily as you need.
Metal sign frames can accommodate various sizes of graphics. Magnetic flip up lens comes with these table sign frames for fast and easy graphic changes.
Various designs are offered here, such as tent style, multiple panels, T-style, slant back, and box frames. You can choose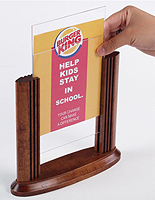 Starting with the least expensive frames obtainable in our catalog are the table top display. Looking just like little tents, these displays are standards of the industry. Not far behind the tents are the multi-fold displays, trained of exhibiting 4, 6, and 8 varying images or menu cards in either star-shaped designs or 3 and 4-sided containers. These photo frames are superior space savers and do a great job of advertising your institution at the table top level. People continuously choose up and read these little advertisers!
Stocking and selling discount photo frames and poster frames since 1974, we've become leaders of the industry! All our objects are stocked for immediate shipment. Orders placed before 1:00 pm EST are shipped out that very day. We display the current inventory quantity of every product on the website, providing customers with the knowledge they require to make a purchasing decision. Buy poster frames online today and see just how easy it is to shop with us!