Silver Poster Frames | Metal Wall Mounts with Many Border Sizes & Designs
---
Silver Poster Frames - Slim & Wide Border Photo Framing Styles with Easy Change Graphics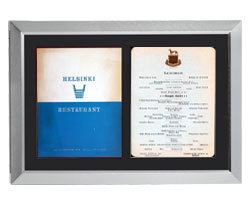 Trying to decide on which silver poster frames to use in your business establishment? The hinged aluminum picture displays available here are sold in several finishes & sizes in an effort to coordinate with virtually every home or office room décor possible. All of this art framing is only able to be wall mounted which helps to save on counter or floor space that would have been taken up with the larger images. Those silver poster frames, called hinged aluminum picture displays, that are locking models are easy to secure with a key that is included with the unit. Many of the indoor metal framing designs are sold with mats to present the chance to display multiple photo sizes. The hinged aluminum picture displays that are front-loading designs also make it easy to change the presented ads for little marketing down time. The silver poster frames for walls can stay mounted while changing images too for less hassle to owners.
What are the different finishes that are available on the hinged aluminum picture displays?
These silver poster frames come in several looks depending on the style of the mount.
These aluminum displays with slim borders are the most versatile because they are available in satin & polished finishes.
The poster frames with wider profiles and the outdoor units have a softer look to them because they are offered only in duller designs that aren't as bright as others.
Lastly, the more modern aluminum photo displays that feature concave and beveled edges are offered as brushed silver poster mounts that are sure to make art or advertising stand out
While all of these affordable picture frames are front-loading they may attach images to backers in different ways. Some of the silver poster mounts may use plastic clips that hook photos to the backer and others may feature reusable mounting tape to attach graphics. These displays are offered in locking and non-locking mounts, but even the majority of the non-locking metal designs come with a gravity latch system to help to keep them closed to prevent accidental openings. The outdoor models and those with concave and beveled edges also are able to be mounted in landscape orientation as well as portrait, something the other picture displays can't do. The wall framing comes in sizes that range from 11" x 17" up to 36" x 48" for a large range of sizes.
These holders are able to add class to many different environments, including home settings. The metal displays work well in business locations that want to show off new items or graphics that feature their merchandise in use. Companies that want to make their sale advertising stand out use these signs in prominent places to get them noticed by customers. Hotels and office buildings use the eye-catching displays to present art or other interesting photos to add to their décor and to give waiting customers a design that is interesting enough to keep their attention. Home living rooms, dining rooms, and other residential spaces also work as great spaces to display the metal picture holders.