Slide-in Frames | Easy Change Wall Mounted Sign Displays
---
Slide-in Frame - Top Loading Metal Picture Fixture for Posters & Signage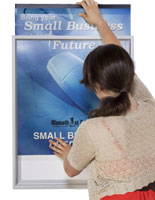 Why do so many businesses choose metal slide-in frames to advertise important posters and signs? The wall mounted sign displays have a unique blend of functionality and style that is very aesthetically pleasing. Both customers and managers appreciate the sleek look of the easy change photo fixtures. The metal designs have a modern appeal that complements the store décor and the contents. These professional slide-in frames with a top opening construction, frequently referred to as easy loading poster holders, come in attractive finishes that draw attention to the promotional picture or signage. Metal photo fixtures are available with different width profiles to best suit the advertising space. Furthermore, the wall mounted sign displays are also incredibly easy to install and use. Managers, employees and other advertisers will have no issues mounting the easy loading poster holders in the desired area of the establishment. Signage fixtures have holes at the back for easily installation and concealing the hardware. The designs ensure that all of the attention from consumers will remain on the photo. These slide-in frames are wall mounted sign displays that allow users to carefully insert the signage from the top or side. Photo fixtures may be setup in portrait or landscape position to accommodate the format of the signage. Commercial frames allow managers to quickly and smoothly move the content into the framing. The easy loading poster holders have a slot offering ample space for fast signage changes. These frames serve as valuable marketing tools for workers in fast paced atmospheres where advertising campaigns are constantly changing. The wall mounted sign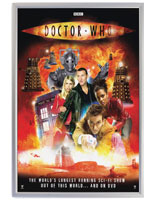 displays have polished appearance to offer an upscale aesthetic at a more than reasonable price.
What is the proper way to insert photos & other signage into the easy loading poster holders?
These slide-in frames have an exceptional simple construction that lends nicely to convenient picture positioning. As mentioned earlier, the wall mounted sign displays have an opening for slipping the signage into the fixtures. Users can start by placing the backer into the easy change designs. The backing offers support to keep the artwork rigidly in place.
The metal fixtures can accept the images through the top or side in the same fashion as the backer was inserted. Promoters can make slight adjustments to the image to ensure that the advertisement is in full view. Easy change photo displays do not require users to remove the units from the wall mounted position.
A plastic lens is included with the wall mounted poster displays. The covering protects the custom graphics from potential damage and limits glare from affecting the customer's vision. The plastic lens gives some added support to the photo or signage to prevent the message from falling out of the case.
These slide-in borders can be used effectively in many businesses across almost all industries. Bulk poster frames can be purchased at wholesale prices thanks to our volume discounting. Many retail stores include the wall mounted displays to advertise the latest merchandise or an upcoming sale. Restaurants provide users with large scale images of food for sale. Movie theaters often feature prints in the lobby to entice customers to come back and see an upcoming film. Any business or public establishment can use the slide-in framing to simply give visitors something pleasant to view. A simple graphic, such as a picture or sign, can make a big difference to the overall décor. The slide-in framing is comes many different sizes to hold the desired signage. Promoters are certain to find a size and style of easy loading metal fixture that suits the situation.