Swing Open Poster Frames | Wall Mounted Advertising Fixtures
---
Swing Open Poster Frame - Front Loading Metal Displays for Sign & Advertisements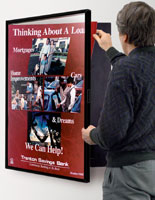 Trying to find commercial swing open poster frames that combine a sense of style with an easy to use construction? The aluminum models feature a high quality design that will call attention to the advertisements while keeping the contents safe. Wall mounted metal displays come with elegant borders that augment the promotional signage and add to the overall décor. Sleek aluminum frameworks have a modern look that will welcome visitors and entice guests to view the installed print. These metal swing open poster frames with the front loading design, frequently referred to as hinged sign holders, include systems to keep the case shut when showcasing promotional messages. The wall mounted fixtures feature catches to ensure that the framing remains closed. Aluminum fixtures may also include a locking security system that will prevent vandals from disturbing the advertisements. Metal displays with locks come with a key, so only authorized personnel can gain access to the contents. These swing open poster frames are aluminum swing fronts available in black, gold or silver to best match the setting without overpowering the installed print. Wall mounted metal displays sometimes include a white mat board to further enhance the visual aesthetic of the promotion. The hinged sign holders take only a few moments to attach to the display surface. Professional frames with this design do not require users to remove the fixture from the wall to load or unload advertisements. Hinged sign holders are sold in several different sizes to accommodate the dimensions of the print. These frames are wonderful options for movie theaters, retail shops or any other location that wants a
swingframe for easily loading large prints and signage. Customers in even the most fast paced environments are likely to take notice of the graphics in the framing.
Where do businesses setup the hinged sign holders in the establishment?
These swing open poster frames are designed for wall mounted displays, but their versatility allows the fixtures to be used in all sorts of areas within the shop. The aluminum swingframes can be placed in lobbies and vestibules to increase the aesthetics. Present products, services, logos and other information to patrons in the large room.
Wall mounted fixtures of this ilk may be used in entranceways to provide messages to patrons waiting for a table at a restaurant or interested in view a motion picture. Many theaters keep movie prints in the front of the house to let customers know what is playing.
Many banks, financial institutions and other wealth management centers feature aluminum swing framing behind the counter to advertise interest rates or other special offers. The graphics invite customers to talk with a teller about loans, accounts or making transactions.
These swing open poster borders feature a simple to install design that allows users to very quickly present important messages to clientele. Wall mounted metal displays come with all the necessary hardware for fast anchoring to the surface. The swing open poster framing allows merchants and promoters to easily open the front loading design. Swingframe fronts function like normal swinging doors. Just pull the door of the framing and tack up the prints. Once the ad is installed, close the borders shut. All of the swing open poster framing includes magnetic catches to seal the front. Some swingframe borders come with a plunge lock and key for added security. The brilliant color and profiles will appeal to consumers, while the locking devices provide the ad protection that managers require.