Snap Open Frames | The Best Choice for Business Owners
---
Snap Poster Frame - Snap Open Frames for Quick Picture Changes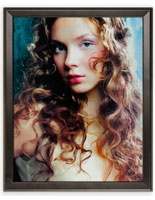 What makes aluminum snap poster frames a suitable option for presenting custom graphics and other images in a business? The easy loading picture displays allows users to install prints through the front of the framing. Advertisers do not have to remove the front open fixtures from the wall mounted or countertop position to make signage changes. Employees working in fast paced environments appreciate the easy loading design because the installation process is very quick. This metal snap open frame with spring loaded borders, also known as a front loading sign holder, only requires merchants to flip open the four sides of the displays to remove or position signage. Once the correct placement is found, users can shut the edges to complete the quick information change process. Wall mounted poster displays make attaching the clip framing to the desired surface convenient. Simply screw the easy use fixtures into the correct location with a drill and screws. The front loading sign holders will be securely affixed in the wall mounted position as a part of indoor and outdoor promotional campaigns. These snap poster frames are quick installation picture displays available in various sizes to secure the print. Easy loading wall mounted fixtures come in large and small dimensions to best fill the void in the marketing strategy. Merchants will find models ideal for way finding signage, movie prints, flyers and other graphics. These frames have a durable aluminum construction to withstand frequent use and clasp onto the important information. Plastic lenses are included with the front loading sign holders to reduce glare and prevent dirt from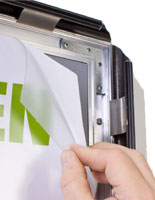 affecting the images. Commercial frames are sold in with different finishes to coordinate with the environment. Make changing signs a quick process by including the picture displays in a store, restaurant, movie theater or other place of business.
What types of signage do companies showcase in the front loading sign holders?
This snap open frame collection features a diverse selection of sizes and styles that will accommodate all sorts of advertisements. Smaller aluminum displays are ideal for placards and other directional information. Demarcate office doors or provide way finding messages to lost visitors with the small front open fixtures.
Photographs and computer print outs can be used with the quick installation framing. Many retail stores and restaurants keep standard 8.5"w x 11"h pictures and art on the walls or countertops. The standard printer paper sizes make it easy for shop owners to create custom signage.
There are many larger wall mounted units with front open designs to present big graphics and messages to clientele. Aluminum picture displays include 11" x 17" borders all the way up to 30" x 40" fixtures. Movie theaters and film buffs can find the industry standard 27" x 40" borders for the prints.
This snap open framing may be used in different places throughout the establishment. There are borders designed for wall mounted or countertop advertisements. Framing options include models with large and slim profiles to best suit the situation. Create a slightly more upscale atmosphere by purchasing wall mounted picture displays with slight embellishments. Managers can feel free to add the front open designs to a lobby, entranceway, cash wrap or showroom marketing campaign. A few of the snap poster borders can even be used outside. These framing tools include a locking system to protect the contents from vandals. The easy loading fixtures are necessary for any business that needs to update messages on a regular basis.