Double-Sided Table Tents | Tabletop Displays for Displaying Cards or Menus
---
Double-Sided Table Tent - Card Holders for Menus & Restaurant Printing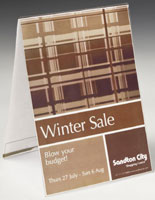 Trying to find wholesale double-sided table tents for informing clientele about the daily specials or upcoming events? The two side tabletop displays has a transparent acrylic construction that keeps the printing content in full view without putting a dent into the advertising budget. Counter card fixtures are available various sizes to best present the promotion to customers. Restaurants, retail stores and other establishments searching for a marketing solution will find models designed for 4"w x 6"h through 7"w x 5"h ads. These acrylic double-sided table tents for diners, commonly referred to as clear sign holders, have versatile designs that suitable for all sorts of businesses. The two sided tabletop displays feature the slanted construction to ensure that the fixture remains stable when advertising the restaurant menu or other printing. Acrylic counter card solutions also use the slant design to entice guests to read the messages or look at the graphic. The clear sign holders are perfect when promoting the latest products, services, upcoming sales or company branding information. These double-sided table tents are tabletop displays capable of showcasing material on both sides to capture the interest of clients on either side of the counter. Acrylic counter card solutions have an easy to load design that allows users to simply slide the content into the fixture. Clear sign holders can be used on a single bar or all of the tables within the establishment. Affordable tents are ideal for bulk purchasing. As any restaurant manager or proprietor will tell you, having lots and lots of tabletop menu holders for advertising is extremely important. Check out our volume discounts on every product page. We feature price breaks when purchasing large quantities. Counter card fixtures may be quickly placed on the furniture for a fast advertising campaign. Two side tabletop displays ensure that customers will be able to read the important listings or see the attractive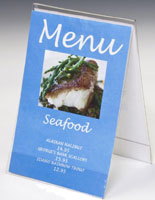 images. These tents can be used to create an elaborate marketing strategy or make a single statement.
What types of businesses use the clear sign holders to promote information?
These double-sided table tents are a mainstay at eateries of all kinds. Restaurants, delis, bars and any other establishment that offers food stuffs place the acrylic counter card fixtures on the furniture. The two sided tabletop displays showcase the specials of the day, a dessert menu, wine list or other printing.
Retail stores often use the counter card fixtures to present important messages to shoppers. Retailers can announce a new low price on certain wares, introduce a brand new line or advertise the in store credit card. Merchants are able to place the signage on any flat surface.
Any establishment that needs to inform clientele can invest in the tabletop displays. The counter card fixtures are great options for banks, hotels, schools and museums. Simply setup the holders and people will heed the notice.
The double-sided table supplies protect the menu or other printing from damage with the rugged acrylic construction. Although the design is simple, the material is surprisingly rugged. Acrylic supplies will prevent dust, dirt and light spills from ruining the printing. Each of the counter card fixtures has a lip for sliding the content into position. Merchants can easily install and remove the menu or other printing from the units. The design is perfect for fast paced businesses. A restaurant, store or other institution implements the supplies to securely and affectively attract attention from consumers coming from either side of the signage.