Picture Easels and Frame Stands for Tabletop or Floor Presentations
---
Display Easels and Picture Stands for Presentations, Merchandising, and Events
Why are picture easels such a great way to exhibit special artwork, portraits, or signage? These frame stands are the ideal fixtures for every display piece. Each or our display easels in this category are engineered for maximum portability yet features upscale style. These portable fixtures can be used with large matted or unmatted poster frames, sign boards, and other advertising graphics. The picture easels, sometimes called photograph easel stands, are crafted from high quality wood, metal, and plastic materials to ensure their longevity in any setting. Oftentimes, viewers get too close and bump displayed imagery, but these longstanding assemblies remain stable even in high traffic areas. As a result, wedding receptions, honorary events, retirement parties, and art shows are some of the most common applications. Shop many styles online, including retractable tripod designs, collapsible configurations with ornate designs, and other folding models that offer adjustability. No matter which easel display is selected, it is sure to provide a sturdy foundation for any one of the elegantly matted frames. Read on to discover the many options and features these picture stands provide.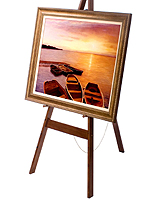 What kinds of poster & photo frame stands are currently for sale?
Wooden picture easels are quite popular, as they tend to add a warm and welcoming feel to any environment. If you operate a quaint gallery along a boardwalk or you simply want to showcase your artwork at home, one of these conventional holders is certain to do the trick. Choose a natural or painted finish to appropriately match your décor.
The metal stands for frames tend to be a little more modern in design and often feature more adjustable features. Some designs have completely retractable legs, so transporting the units to and from events is done with ease. Of course, there are basic scroll patterns as well that do not offer adjustability which can be used effectively for more permanent locations.
Economy easel stands come in all sorts of shapes and sizes. Additionally, they are crafted from many different materials. The commonality among these options is simply that they are the most cost-effective systems available. A number of these units are highly sought after by repeat buyers, so there is no question about their value!
Not only are there wood units, metal stands, and a number of economy displays, but also there are systems built for tabletop applications which are definitely some of the most popular. These designs are effective when used on display counters and retail checkout stands, but are also seen in many homes. Some are even adjustable, while others actually function as both a floor-standing and countertop assembly!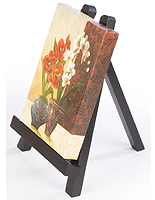 Aside from an art studio, where might these picture stands be found?
Restaurants and food establishments often apply the portable display racks in their foyers to highlight daily specials. Because most configurations collapse, retract, or fold, the units can be put up, taken down, and relocated as needed. Why not give patrons something to ponder while they for their table?
Hotels, motels, resorts, and conference centers frequently set up tri-pod displays to illustrate event schedules, nearby attractions, and available services.
Both large and small retail stores commonly select portable exhibit stands to detail new merchandise and the latest additions. The movable designs prevent managers from cluttering sales walls and floors. In addition, the portable stands can be erected wherever is most advantageous for the business. Many retailers opt for showroom setups or storefront window presentations to gain more exposure.
Organizations and associations also utilize the tabletop and floor-standing display holders. In fact, many government buildings, church meeting halls, community centers, and educational institutions keep them around to fill in constituents, members, and students.
Picture-Frames-Warehouse.com stocks a large quantity of framing accessories for studio art, photo, picture, poster, and sign displays. In fact, the collection includes more than 1000 different options. The massive inventory is listed in full on the website, so shoppers are able to find exactly what they need with ease. Browse all kinds of categories, including the best sellers, to find cheap clear plastic, table top, decorative, magnetic, colorful, and gallery selections. Make sure you have high quality materials for wedding receptions, honorary events, and even the home. When it comes to wholesale framing and accessories, our website has it all!