Certificate Frames are Sized for 8.5" x 11" Documents
---
Document Frames Display Certificates, Licenses, and other Credentials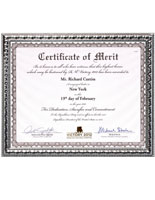 Need wholesale certificate frames to showcase previous accomplishments to customers or other important visitors? These are sized to accommodate standard 8.5" x 11" inserts in any professional setting. Customers can choose from a slew of wood, acrylic and metal framing options that will fit in with pre-existing décor. Place the displays on the countertop or wall depending upon the situation. These bulk document frames with attractive finishes and colors, also called acrylic certificate frames, call attention to achievements or accreditations. Users are welcome to pick models with black, silver, natural wood or clear acrylic to match the style of document. Most holders can be displayed in either vertical or horizontal orientation. The frames include glass or acrylic lenses that stop dust, dirt and other potentially harmful elements from ruining the important paper or photo. Floating styles suspend your credentials between panes of glass for an entirely new and modern presentation. Does your company purchase certificate frames in bulk to distribute to franchises or branch offices? Buying in large quantities not only saves money but also ensures the same picture frame is used for continuity's sake.
Where are document frames used?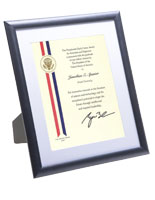 Certificate frames are commonly found on the desk or walls of professionals. Many doctors display their frame in the lobby or waiting room to assure nervous patients that the physician is licensed and well educated. Lawyers often use the wood borders to advertise a law degree or passing of the bar exam. Accountants, financial planners and real estate agents that need certification in order to have a practice, like to promote their qualifications to potential clients.
Restaurants, bars and other eateries frequently have these models in prominent places within the establishment. The wood, metal or acrylic fixtures display health codes and fire safety protocol, such as maximum occupancy signs, to patrons. Many taverns mount the liquor license to the wall so police officers and concerned citizens know that the proprietor can sell alcohol. Eateries located in major cities elect to highlight their health grade to diners.
Businesses with multiple stores or locations constantly buy high-volume quantities. This way their promotions stay consistent with directives from management. If a company wants to send the same frame design to each of its offices, doing so from our warehouse offers a dependable solution.
Choosing a handsome black moulding with gold trim or a clear floating frameless model? Your accreditation will be displayed in the best possible light. Patrons and visitors all appreciate viewing the professional's educational background and certificates of merit. Or hang your college diploma and other awards showcasing your achievements. The main thing to remember is that these frames are sized for 8-1/2" x 11" documents. How and where you display them is up to you!