Small Picture Frames | Designate Party Seating with Place Cards!
---
Mini Picture Frames for Creative Seating Assignments!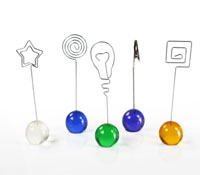 How can mini picture frames be used to enhance parties and special events? Entertaining is really a breeze, not to mention lots of fun, when creative accessories like these are used to set the table. This website offers an enormous assortment of tabletop name plates that add lots of decorative charm to the decor at a special event! Party favors meet cute when turned into name plates for attendees so they can identify their place at the table! With so many styles, sizes, and colors to choose from, these accessories are a caterer's dream! Whether you are a mom, an event planner, or gift supplies shop owner, these mini picture frames, also known as wedding favors are eye-catching and durable so they can be used over and over! Each of these miniature tabletop fixtures are place card holders with character! Designs are as elegant, or witty as you choose them to be, from polar bears, to little flower pots, with more upscale silver name stands for weddings.
These small picture frames in bulk quantities offer awesome discounts following our price break system. Each of these card holders can be same-day shipped when in stock, and caterers love ordering in bulk to save on the already low prices. Have confidence when purchasing these wedding favors that will delight guests and party giver alike. Smaller versions of standard framing for identifying seats at a table are also available in many imaginative designs featuring a moon and stars, animal characters, and balloon etchings.
What kinds of creative place card holders are found at this website?
These mini picture frames boast a vast and creative assortment of unique party themes!
Design: Choose from an array of unique designs from coil, clothes pin, double-arm, & more!
Shape: Select heart, cube, oval, swirl, ball, star, animal figures, & more!
Color: red, yellow, blue, you name it - your table will twinkle with color!
These small picture frames result in a beautiful tabletop display that distinguishes guests from one another and makes them feel welcome! Each miniature sign holder is of unique design and function. This mini picture framing for events is a card holder for inspirational messages, special photos, and name tags. A child's party just sparkles when little figurines in charming shapes are placed around a table for someone's birthday, holding a special photo! Garden Club members simply love the flower pot shape designs, and of course brides like more elegant offerings such as an elegant silver name holder for her betrothed! Wedding favors have never been so elegant, nor supplies more unique!