Digital Photo Frames for Advertising Presentations
---
Digital Photo Frames | Electronic Print Displays for Interactive Marketing
Looking to expand your marketing horizons exponentially with digital photo frames? Look no further - a multitude of dynamic presentation screens are available here at this creative and reputable website! These digital photo frames are picture display tools supported by technology, adding a whole other dimension to your merchandising plan of attack. Customize the user experience with a myriad of special features including targeted interval timing, and vertical or horizontal orientation options depending on the nature of the merchandise. Each of these digital photo frames, also known as electronic print display systems, practically sell themselves because the technology is so user-friendly. The enclosures are inherently more powerful than the static signage of yesterday, so count yourself lucky if you've discovered moving advertisements for your business! Customization opportunities are endless when considering these digital photo frames, which is another perk of these systems over plain old signs. These picture displays are easy to update, which saves your business on human resources in the long term once the initial purchase is made. This electronic print display, also known as a memory showcase, is a boon for busy retailers who want to go the professional distance. Savvy marketing tools like the flatscreens featured here are sized from 15" up to 21" for streaming camera prints in an interactive presentation.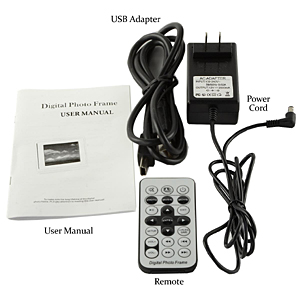 What unique features does this electronic print display offer the retailer or business person?
These digital photo frames feature high-resolution screens for clear, colorful, imaging.
The slim profile of these LCD monitors puts the focus on the merchandise showcased.
Optional LED backlighting emphasizes a business presentation, making it even more impactful.
Vertical or horizontal orientation options make it easy to highlight merchandise in different genres.
The plug-and-play media drive is built into most models, saving space and keeping visual lines.
Camera files supported include JPEG, MPEG, MP3, MP4, and AVI for multiple compatibilies.
Easy to load files are transferred via thumb drive and USB port for efficiency.
Versatile VESA mounts are compatible for wall or countertop on most of these units.
Customizable pre-programmable clock, calendar, interval on/off timing is an added perk!
When it comes to commercial technology, do you and your staff care about ease-of-use? If the answer is yes, this electronic print display system is for your organization. Not everyone is technically savvy and many business owners are focused on other aspects of their organization, so easy-to-use supports are welcome. Take the concept "plug and play" for these devices literally when your purchase is made. Because all there is to do when you get one of these memory showcases to the office is save your image, audio or video file from your camera onto a thumb drive, plug it in, and follow the menu prompts for a full-on presentation! These photo frames can be turned into modern-day slide projectors or movie cameras to entertain your customers while they wait for service. These picture displays also work well to bring your merchandise and services into the sightline of visitors so they are familiar with your brand and wares before they meet you or your colleagues.
These frames are easy to work with, which is why proprietors and business executives love electronic picture displays in the first place! These LCD signs can be updated in three shakes of a lamb's tail, which makes it an affordable advertising solution or device for a memory presentation at home. Load and re-load an image in seconds from your camera and never worry about keeping up with an influx of new merchandise! Invest in digital photo framing on the front end and enjoy exponential savings down the road! Achieve far more success with these photo frames as part of your marketing strategy than ever was achieved with conventional print signage. These media systems are suitable for integrated marketing campaigns in an office, agency, school, or university. Create a positive, compelling message or feeling about a retail store or in a banquet hall using moving image and message advertising that is targeted for your audience. Entertain guests at a spa or athletic club with inspirational messages, presentations about services, contests, raffles, or gym schedules. Plan menus and then show them off at a restaurant, café, or bar using this technology to bring about news of new meals, chefs, and specials! Preserve cherished memories in electronic format using multimedia signage.
Whether your business environment are low- or high- tech, upscale or casual, this digital photo framing exceeds conventional print advertising in terms of successful marketing! Visit Picture-Frames-Warehouse.com for affordable supplies, always in stock with quick shipping! High quality supplies for commercial and residential use, from commercial tradeshow banners to residential snapshot enclosures can be purchased for less here, with the same style, function, and construction you'd expect from our higher end products! This company is a trusted supplier of home and commercial displays since 1974! Choose digital photo framing from a plethora of in stock, continuously growing wares that ship from a gigantic warehouse! With quality construction, wholesale and bulk pricing, top-level engineering and functionality, and aesthetically appealing design, these products won't disappoint! Order snapshot and multimedia systems by 1 p.m. between Monday and Friday EST for same-day shipping when in stock! Chat with us live during business hours, or place your order directly by calling 1-800-572-2194 or ask any question! Shoppers can e-mail us before or after business hours and our team will get back to you within 24 hours. Enjoy all facets of your experience with this company that is dedicated to customer satisfaction!