Specialty Picture Frames | Personalized High Quality Frames
---
Specialty Picture Frames - For Panoramic Photos, Portraits, and Much More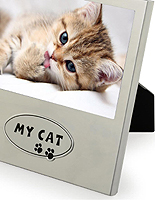 What are these specialty picture frames for? These ready made displays, such as placeholder and panoramic styles, are obtainable with theme designs, reflective upon family, friends, and happiness. Some of these decorative styles illustrate sweet messages, while others contain irresistible details suitable for any photograph. Made with varying materials such as wood, metal, and plastic, these specialty picture frames will easily fit into any room décor. All are provided with a glass overlay to protect your special snapshots from outside elements that can cause damage. Some of the framing comes in classic black and white finishes, while others include a more modern look with silver plated borders. You can use these specialty picture frames for displaying panoramic photos, place cards, & personal photos. We also have good quality digital photo frames, and you can display your photo album in a continuous slideshow. Shadow boxes are ideal for displaying memorable moments & collections. Graduation shadow boxes allow you to display tassels and pictures at the same time, which makes your memory even more special. Shopping for bulk picture frames? All selections feature quantity discounts with price breaks on every product page.
Where can you use these themed photo holders?
Specialty picture frames support different types of media, displayable inside any one of our shadow boxes.
Panoramic styles are very popular nowadays, and we provide a large selection for our customers to choose.
Digital photo frames can display your photo album through slideshows. All pictures will rotate automatically.
There are also lots of models designed to showcase miniature pics, documents and certificates, collages, and much more.
Picture clip stands come with many decorative details and can be found in lots of environments, including a home, office, or retail institution. Display your newborn child in pastel pink or blue; or showcase your diplomas or awards in a classic wood models. display photographs on your desk at work as a reminder of your loved ones. The possibilities are endless! Besides using these ready made displays for personal use, these holders are great as personal gifts. Frame a special snapshot of you and your friend in a irresistible metal picture display and give as a birthday gift. Nothing is sweeter than giving new parents photographs of their little babies. Photo holders help create something special no matter where they are used.
Many of these styles can be displayed on tables or mounted to your walls! Highlight a collage of family photos in your living room, or showcase a special memory on your desk at work. Add a special decorative touch to any room that may need a little something additional. These picture displays are also great for gift giving. Present a wedding photograph to a couple on their anniversary, or give a precious snapshot of a baby to new parents. No matter which frame you select to give, the personal touch they bring will make any recipient smile.