Black Metal Picture Frames | Contemporary Photo, Art or Ad Framing
---
Black Metal Picture Frames - Modern Photo Framing Styles for Home or Business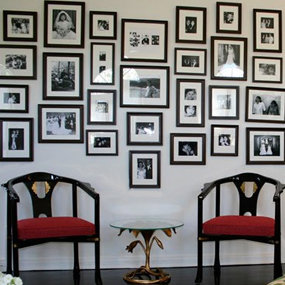 Don't black metal picture frames give a great look to any location? There's something classic and yet very modern that comes from the contrast between dark framing, a light mat and a graphic. Vintage black metal picture frames have always been popular for collage or gallery-style collections as well as to showcase a single image. Our huge variety of ready-made framing is designed to complement any business, commercial or home décor. Black metal picture frames, frequently called contemporary photo holders because they accent even the most vintage style imaging, are an economical and very stylish choice that creates eye-catching photographs, art or advertising displays. From countertop holders for a single 5x7 snapshot to wall-mounted collage displays to simple certificate framing, this type of photo enclosure can match any need.
What are the different styles of our photo frames?
Single-image black metal picture frames in bulk come in sizes ranging from tiny 2" x 3" tabletop mounts to large 30" x 10" molded edge panoramic displays.
Multi-image or collage style holders showcase two or more images within the same frame. Designed to hold the most common picture sizes — 4" x 6" and 5" x 7" — these types of holders create an instant gallery-style collection.
Ready-made matted framing imparts a classic look to both modern or vintage photography and artwork, as well as providing additional contrast for contents. The width of the mat helps focus viewer attention, and removable mats allow different size images to be used.
Decorative molding is a perfect way to highlight awards and certificates. When used in conjunction with a contrasting mat, even the most simple text will draw attention and look great.
Swing-front framing with snap-open molding allows graphics to be changed quickly and easily. This style is perfect for commercial use, as it allows advertisements, flyers and marketing messaging to be swapped out in conjunction with current specials or other offerings.
Any of our economical models also look great when used collage-style for wall mounted applications (see picture above). Collections of vintage photos, snapshots with color-coordinated mats, wedding or other family photographs and more all make great collages. Smaller tabletop framing allows an almost 3d effect to be created, while wall mounting with different moldings gives collections a very contemporary look that complements any business or home décor. Combining different sizes, such as a wide panoramic format with several smaller 4" x 6" or 5" x 7" sizes, gives a gallery feel to any photo set.
Picture holders can be used to not only complement the images and graphics contained within the framing, but also to create a visual style that will coincide or match any environment or home décor. From simple 5" x 7" snapshot holders to advertising displays to ready-made wall art, this type of frame is an affordable, stylish choice.