Metal Picture Frames | Aluminum Photo Framing
---
Metal Picture Frames in Bulk- Ready Made Black & Silver Photo Displays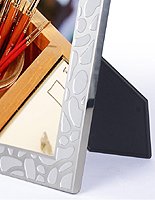 Why choose metal picture frames? These photo holders offer stylized profiles and sleek finishes for a more modern display. The framing features both classic and decorative designs, great for a number of varying environments. These color-enhanced models, also known as ready made metal picture frames, include either a plastic or glass overlay for protecting the enclosed contents. Depending on the style you select, these displays can be mounted to a wall or showcased on a tabletop. Many of these frames have unique features, including snap open edges and slide-in capabilities. Whether you are looking for an open-book display or for a wall mount, these picture displays will be sure to fit your definitive needs. Many of these metal picture frames can be engraved for a personal demo as well!
What kinds of features do these picture holders have?
Metal picture frames are made with a variety of finishes. These include aluminum anodizing and steel powder-coating.
Specially designed patterns and shapes give these displays unique appearances. We have a large selection of interesting embossed edges available in the silver category. There are various choices of designs to fit within the themes of your pictures.
Bulk ordering is for companies looking to purchase a large amount and are great gift ideas for company employees. These ready made steel frames are not only sturdy but also light-weight.
We provide our customers with a large selection of sizes, as well as collage styles and hinged designs that hold two photos together.
If you are looking for a contemporary display with style, metal frames are always a great choice! The material itself showcases your treasured momories and it's strong and well-made. They can be found hanging just about anywhere! Use decorative models to showcase wedding or special occasion moments, or use in your business environment to inform others of your policies or promotions. Mini sizes can be used as wedding favors and gifts. Choose a style that marks a special occasion for home and office. Whether you wish to give as a gift, keep for yourself, or add to your business, these photo displays will always be practical and in style.