Magnetic Picture Frames are Economy Frameless Framing for Walls, Countertops & Tables
---
Magnetic Picture Enclosures - Stylish Economy Frames for High Visibility Displays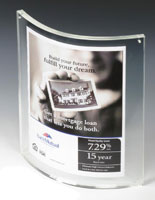 Why do so many businesses purchase magnetic picture frames in bulk quantities for high visibility advertising and promotional graphics displays? Frameless countertop and wall-mounted photo displays without borders are favored tools for exhibiting advertising, promotional content, and images in an entirely new way. Wholesale magnetic picture frames purchased in bulk are an economical and stylish alternative to expensive glass framing. One simple design, called economy refrigerator magnet photo sleeves, features magnetized backers that attach easily to metal surfaces. Other clear magnetic picture frames, such as clear acrylic block frames, use small magnets embedded at each corner to allow the plates to attach tightly to each other, mounting graphics securely between them. The economical materials and construction of these types of fixtures make them excellent advertising displays for retailers and business offices. The low price point of bulk magnetic picture frames means that advertising and marketing messaging displays will be consistent throughout stores and multiple service locations, giving a professional look to any commercial environment. Stylish framing with easy-change designs and polished edges makes it easy to market new product information or advertise special sales, services, and even cosmetics, perfume, and jewelry by inserting seasonal sales promotions, or other advertisements into these high visibility sign displays. The frameless look of clear acrylic paired with strategic marketing materials makes for an unbeatable sales combination that will attract customer attention in any environment.
What styles of commercial magnetic picture frames are available?
Clear acrylic block frames for photos and graphics have a neutral, frameless design that keeps all of the focus on the contents and messaging. These lightweight commercial enclosures have an innovative design that mimics the look of expensive frameless glass displays at a fraction of the cost. Business advertisers can choose between flat and curved designs to best present materials in high visibility environments. Lightweight see-through panels allow users to set up double sided marketing campaigns that attract customer attention from all directions.
Lightweight economy plastic 4x6 and 5x7 refrigerator magnet picture frames mount easily on counters and stands for point of sale displays. These versatile photo or card holders are also suitable for showcasing merchandising graphics and info cards in showroom and sales environments. In addition, economy clear magnet framing makes an ideal choice for corporate gifting or trade show promotional giveaways as conventional photograph sizes are commonly used to showcase photos of loved ones or fond memories in offices and homes.
Panorama style acrylic block frames are ideal for showcasing wide-view advertisements, photography and art. 10 x 4 and 14 x 6 enclosures accommodate panoramic width graphics or artwork or photographs with ease. Many retail stores and other advertisers use panorama displays for presenting drawing attention to framed coupons or advertisements.
Wall and window-mounting 8.5 x 11 prints is one of the most popular styles of business, commercial, and decorative framing. Our clear magnet-closure picture and poster frames with built in borders safely enclose advertisements or marketing materials printed on conventional printer paper. Advertisers can showcase promotional content created on an office computer and alleviate the costs associated with custom commercial printing. Photo designs of this size are also great for showcasing certificates and diplomas, as well as menu or specials lists in hospitality, restaurant, café and club environments.
The sleek transparent designs of the acrylic blocks are very effective at drawing attention to countertop advertising campaigns. Our cheap acrylic frameless picture frames feature polished edges and a transparent exterior that makes photos and graphics look as if they are floating in air. These economy ad displays with magnet closures accommodate many different sizes of advertising art or poster. Many retail stores' marketing strategies incorporate clear block frames near the cash register to draw attention to coupons, branding or service ads at point of purchase. Countertop point of sale graphics framing also works well on desks, tables, shelves and other flat surfaces. These graphics holders are economical options for high visibility advertising displays in restaurants, offices, retail stores, and other commercial environments.
Why choose economy acrylic block frames?
Wholesale Pricing - Bulk magnet-closure picture frames offer exceptional volume discounting due to their economical construction. Retailers and restaurants like to purchase them in large quantities in order to distribute to multiple store locations. Service businesses and commercial operations choose bulk acrylic magnet frames for use in-office and as promotional giveaways.
Frameless Design - Borderless glass framing is one of the most stylish ways to showcase images in any environment. These cheap acrylic block frames duplicate the look at a much lower cost by using two plastic panels with polished edges.
Ease of Use - This style clear display framing requires a few moments to insert or change photos or posters, making it ideal for use in fast-paced commercial and business environments. Rather than adjusting clips, matboards, felt backers or easels, users simply separate the two panels and change out contents as often as needed. Window and wall mounted framing styles are just as easy to use and feature flexible plastic poster lenses instead of solid acrylic blocks.
PictureFramesWarehouse.com's huge selection of bulk-purchase framing includes clear acrylic plates with thicknesses ranging from 1/8" to 3/8". Simply separate the blocks or lenses, then marry the two together for an instant and secure presentation that will atract attention in even the busiest environments. It's important to point out the acrylic plates feature polished edges which is what makes these economy graphics holders so attractive. Flat and curved styles are offered that stand on their own or come with extra bases or other types of display hardware.