Black Wood Picture Frames | Hanging Styles for Home, Work & Retail Use
---
Black Wood Picture Frames - Ideal for Mounting Art, Photographs & Certificates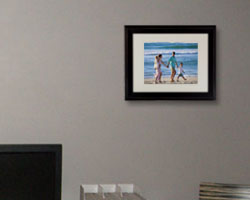 Are you in need of black wood picture frames to display images in your office lobby or living room? The black photo framing with glass panels are perfect to use in residential or commercial settings. The black wood picture frame collection has many standard sizes available from 4" x 6" up to 16" x 20". The home and office photo framing also comes in non-traditional sizes, like 12" x 12", and in panoramic displays that measure up to 40" wide. The photograph mounts are sold with such diverse edgings that there is surely one to suit your business style or home décor. The black wood picture frames, also known as photo framing, are sometimes sold with multiple sizes being available in the same framework so customers have the ability to purchase a set of displays to hang all of their awards and graphics and still maintain a consistent, cohesive look. Browse these ready-made holders today to see all of the great styles for sale with and without white mats.
What styles of edgework are crafted on this wooden photo framing?
The black wood picture frames in bulk are sold in several styles, one of which is traditional flat edgework with varying profile heights.
These mounts are also available with decorative inlays or beading along the inner or outer border, as well as possibly having colored trim along the inner edge.
Wooden framing that has a shadow box structure is also sold here. In this collection the ready-made mounts have deeper recesses for a more dramatic appearance.
These picture mounts are sold with so many options, like size variations and matted looks, that whether you are trying to enhance your personal space or your ability to sell prints at an art gallery, there is a style to meet your needs. Typical sizes include 4" x 6", 5" x 7", 8" x 10", 11" x 14", but you will also find other sizes that aren't so common, like square or letter-format 8.5" x 11" holders. There are also plenty of wooden displays that are designed to fit wedding or landscape panoramas that are sure to become the focal point of your home décor. Collage sets are sold with white mats that have multiple openings of the same size or of complementary measurements. All of the frames, matted or not, come with front glass panels to protect the items inside, which is especially important for the CD and record sets in order to keep the dust from damaging the music accessories.
Placement of the holders in homes or an art gallery has been mentioned, but don't forget that these ready-made frames are also great for office and retail use. The collections make a statement when used in waiting rooms to present a set of eye-catching images or important information. Consistent use throughout employee offices makes for a pleasing look to clients. Retail locations hang the mounts with or without their white mats to showcase prints for sale or to highlight graphics of their available items being used, like cars, or worn, like dresses or tuxedos. No matter where you intend to use glass front framing, matted or not, Picture-Frames-Warehouse has the best and most affordable photo holders online!