Plastic Picture Frames | Polystyrene Photo Displays
---
Plastic Picture Frames - Light Weight Polystyrene Photo Holders at Wholesale Prices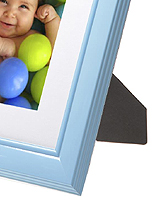 Looking for a light-weighted and durable plastic picture frame for your office or home? These polystyrene photo frames are fabricated from sturdy plastic in a number of varying styles and sizes. Some of these ready made displays have decorative borders in colors like pastel pink and yellow, or elegant gold and silver. Plastic picture frames in bulk feature simple designs that can be mounted at your business, or set flat on countertops at a deli or restaurant. Each holder includes a protective overlay that secures contents from outer elements like dirt, rips, and fingerprints. The tabletop picture framing, also known as plastic picture frames, come with easel backs for easy displays while the wall mountable styles feature the proper hooks to get the job done quick. Some utilize magnets for refrigerator or filing cabinet displays. Polystyrene models are stonger and lighter than metal frames because of the sturdy plastic material. These holders are designed in various shapes and colors to match with all kinds of environment settings.
Why should you choose polystyrene photo holders?
Plastic picture frames are made of spray painted sturdy plastic, and come with a large selection of designs. There are black, white, brown, gold, and silver for different environment settings.
Polystyrene holders are ideal for home decor and retail stores. Frameless magnetic styles allow you to display pictures on fridge and other metal surfaces. Traditional plain framing can be used in stores and office environments, however more ornate designs are decorative and great for home decor.
Plastic promotional photo displays can provide the classic look of wood with lower prices. They also have strong and durable features that metal counterparts have without being too heavy.
We provide our customers with a large selection in sizes as well. Customers can select models for miniature pictures, certificate, or large family pictures.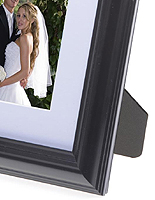 These ready made PVC holders are all lightweight, suitable for many varying environments. Use a tabletop display to present the daily specials at your restaurant or showcase a prized family photo at home. Some of these ready made styles can be mounted to a room partition, great for showing business knowledge your clients need to know. Decorate your office with displays that are affordable enough to buy multiples for a irresistible tabletop arrangement. These versatile products can be found just about anywhere in today's world! If you're looking for cheap decorative displays, we have them. Looking for a holder with a magnetic back? We have them. Most include removable mats or collage mats, suitable for exhibiting your preferred photos.