Frameless Clear Picture Frames | Acrylic or Glass Holders for Tabletop and Wall Mount
---
Clear Picture Frames - Glass and Acrylic Block Photo Displays at Wholesale Prices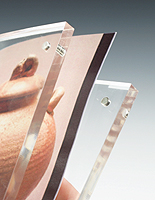 Why do people choose frameless photo displays instead of traditional wood or metal? Clear picture frames offer the modern and contemporary look without the distraction of a traditional border. Our diverse selection of acrylic and glass framing comes with edge clips, embedded magnets, or binding screws to secure your displayed images. The clear picture frames featured on this category page are low cost options for any image, photo, or graphic. Available for discounted bulk pricing, some table top and wall sign holders can display double sided advertisements. The dual sided feature expands the marketability of any promotion. We stock these ready made clear picture frames in all of the standard sizes, such as 3-1/2" x 5", 4" x 6", 5" x 7", 8" x 10", 8-1/2" x 11". Frameless glass and acrylic framing creates elegant and contemporary looks for picture displays, widely used in today's modern, upscale interiors.
What kinds of designs do these frameless photo displays offer?
The clear picture frames with embedded magnetics effectively sandwich your images for a quick and easy display. Standard acrylic block models also come in curved styles that display graphics in either concave or convex formats.
Another sandwich-style display uses binding screws or decorative caps to secure the assemblies. These feature metallic finishes such as chrome and stainless steel which help to accent the picture or sign displayed.
Frameless glass photo frames feature tempered glass for safety and are held together with unobtrusive metal clips. These holders display pictures and posters right up to the edge without any border showing and are among the most affordably-priced frames offered here.
A second tabletop framing series eschews the use of the metal clips and substitutes them for two wide aluminum clamps with silver finish. Their purpose is the same as the clips but instead become part of the overall presentation as an additional accent.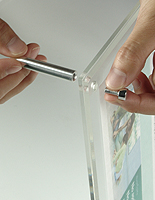 We offer these picture frames in multiple formats, including angled, curved, counter-top, and wall mount. Angled styles display your images at a comfortable viewing angle, while those with magnets feature thicker designs with machine-polished edges for a more dramatic presentation. The frameless glass models do away with wood or metal framing and places the focus on the image at hand. Sometimes an application doesn't call for a fancy wood moulding or gilded gold finish to make a point. Let these acrylic and glass frames adorn your retail store, office, or showroom with modern sensibility.
Since their main feature is the lack of a frame, these picture holders highlight your images without distraction. Traditional mitered frames display a certain kind of style, look, or connotation. If you are looking for a truly contemporary presentation that places greater emphasis on your pictures, these in stock and ready made frames are the best option, available at affordable wholesale prices only from Picture-Frames-Warehouse.